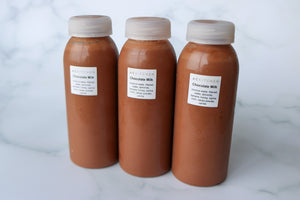 Why is chocolate milk so popular among pro MLB players after training? It's the ratio of carbs, fat, and protein! This recipe is straight out of Chef Allen's book, The Game of Eating Smart. 
These organic ingredients are packed with nutrients, electrolytes, and plant protein:
Coconut Water, Bananas, Sacha Inchi, Cacao Powder, Almonds, Honey, Vanilla Extract
Small batch, made and made to order. 
8 fl oz bottles (pack of 6)
*Note, our milks are not pasteurized. Please consume within 5 days. 
Recovery Chocolate Milk is available as an add-on to your meal plan and is delivered on either Sunday or Wednesday.